VINCENT MICHAEL HOLIAN
Vince Holian (1926 - 2014) grew up at Nooramunga attending school at Devenish West Primary School. His father, also Vincent, was one of the 76 cousins. Father Vince was manager of a farm for the Clearys. From an early age the young Vin collected information about members of the Holian family and he was a keen photographer all his life. Being a boy of his era Vinnie didn't attend secondary school. Vin moved to Melbourne for work when he was 15 taking a job with the Victorian Railways for four years as a station assistant working at Richmond, Clifton Hill and North Fitzroy (on the now non-existent Clifton Hill to Royal Park railway line). His family moved to Kalkalo in 1942 to manage a farm on Donnybrook Road (the still existent bluestone farm house is possibly soon to be demolished for a housing estate).
Vince took jobs as an itinerant worker which took him to many parts of eastern Australia allowing him to meet his relatives. In 1947 Vin moved to Coonamble in northern NSW to work as a rouseabout in a shearing shed. In a letter from his mother Vin learnt he had relatives - the Walkers and the Murphies - in Coonamble and he stayed with these families on alternating weekends. Vin celebrated his 21st birthday in Coonamble. 'Jack' (real name Fred) Walker was a member of the Holian Walker branch from Bell, Queensland. Vin had the pleasure of meeting grandmother Bridget Walker (nee Holian) when she came from Bell to visit her son. In 1948, Vin got a job cutting sugar cane at Benora Point on the NSW/Queensland border where he stayed for five weeks, but worked only one due to the Tweed River being in flood. He then travelled to Brisbane where he met cousin Tom Walker who told him the story about Tom's grandfather meeting Dan Kelly in Dalby around 1910.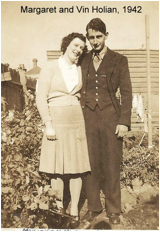 Vince returned to Victoria in 1948 and after a number of jobs around the State, in early 1949 went grape picking at Irymple and then took a labouring job at Lalbert on the Murray River (east of Mildura) clearing irrigation ditches. After a week at Lalbert he awoke one morning and went to lift himself up with his left arm, but couldnÕt as it had no strength. He had contracted polio. The polio vaccine hadn't yet been invented. He was taken to Bendigo Base Hospital where he stayed four months. After a month at home at Donnybrook as an out-patient he went to the Rockingham Convalescent Home at 1 Barkers Road, Kew for four months. Rockingham was an eight acre property with a Yarra River frontage above the Victoria Street bridge cutting. After Rockingham he moved to the new, modern Maryport Rehabilitation Hospital at Mt Martha where he was an in-patient for a year. Although VinceÕs treatment was lengthy, he was fortunate because his was not a severe case of polio. Nevertheless, the polio affected his left arm for the remainder of his life. However, his rehabilitation wasnÕt finished yet. He was enrolled in a nine month course at a business school in Latrobe Street and learnt about office work.
Vin married Edna, who had a daughter Merryn, and they had five children: Rosalie, Annette, Mark, Peter and Michelle. In early 1952, the 25-year-old started an office job in South Melbourne with the company that would become Gilbarco, the successful petrol bowser manufacturer. He worked for the company for 17 and a half years and moved with them to Thornbury.
Soon after this time Vince embarked on the task of constructing the Holian family tree stemming from the family who had immigrated to Australia, through to his fatherÕs generation. This was the generation of offspring of the twelve kids who had made the journey to St James/Devenish and settled there. He created genealogical tables for the original four children who came from Ireland and then for the branch who moved to St James/Devenish. This branch was compact in the sense it remained constrained mainly in the same geographical area, but it was not compact in terms of numbers. The twelve who settled at St James/Devenish had 76 offspring, hence the name of this story. It was Vince who coined the phrase 76 Cousins. In turn these 76 cousins had offspring and itÕs from this next generation that the characters, important for this story, are drawn – Vince himself, Tom Walker, Leo Regan and Ursula Gilbert (and also Mary Holian, the mother of your author).
Vince played a major part in creating the Holian family tree. How Vin gathered the data for his tables is poorly understood. Ample useage was made of the State GovernmentÕs Births, Deaths and Marriages in Melbourne where official certificates could be obtained (for a fee). Cemeteries were visited and dates and names of the deceased and relatives were copied down from gravestones. Cemetery records were obtained and use made of them. Vin built up his knowledge of Holian family history in whatever way possible. For example, he heard of a Holien (note the "e") living in Harcourt. He visited her with a tape recorder and she provided a lot of useful information. Of course chance played a role. Vince's brother Des married and settled down in Burwood. One day Des chatted to his neighbour across the back fence whose grandmother turned out to be a Fallon. Vin got a book of names from his brother's neighbour.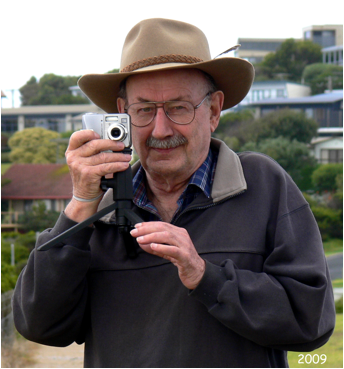 Vinnie lived in Preston not far from the Regan residence and started visiting Leo, and his sons Des and Greg in the early 1960s to talk about family history. Vinnie went to the Walker family reunion in Toowoomba in 1966. Leo Regan and Tom Walker were also there. VinÕs tables attracted a lot of interest.
Vince was one of the four organisers of the 1980 Holian Reunion along with Leo and Des Regan and Ursula Gilbert as explained in Section 4. The Holians Spread Out.
After Vince left Gilbarco in August 1969 he bought a mixed business in Beach Road, Maroochydore and the whole family moved to Queensland. He became a shopkeeper for three years. Vin returned to work at Gilbarco for another two years from 1973 - 5. Gilbarco was the first property in Normanby Avenue, Thornbury above the Merri Creek. He was there for the Merri Creek big flood in May 1974 and he said the water came up level with the desktops in the office.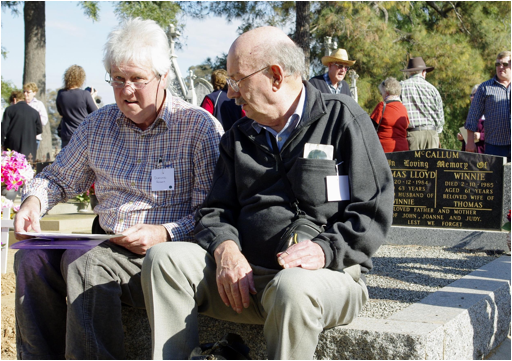 After finishing up at Gilbarco, Vince learnt from Leo Regan they were looking for workers at Mont Park Mental Hospital. He got a job there in 1976 and in the following 16 years worked in various roles in the Pharmacy and as a storeman. In 1977 he moved to live in Kingsbury where, five years later, a new neighbour named Helen moved in across the road. Vin provided Helen with company walking her dog. Vin and Helen married in 1985 and moved to a new home in Lower Plenty. Both retired in 1991 living active lives with Vin pursuing his interest in Holian family history. Early in the second half of 2013 Vin experienced health problems and his health gradually deteriorated and he died in February 2014.