URSULA MARIE GILBERT
UrsulaÕs grandmother, Mary Ann Holian, was one of the twelve children who made the trek to the St James/Devenish district. Three years after getting there, Mary Ann married James Gilbert. UrsulaÕs father Jack (real name John) was one of the 76 Cousins. Ursula was born in 1932 and grew up on the small family farm (180 acres) at Bungeet West between Thoona and Devenish. UrsulaÕs dad was always close to his wider family; he visited them whenever he could and Ursula would tagalong. The farm was called Springvale (nicknamed Frog's Hollow) and nestled in front of two hills north of the Chesnies. Behind the farm was a natural spring which supplied the house with water. The spring was in a natural treed area and in periods of drought local farmers would bring their Furphy water carts to fill-up at the spring.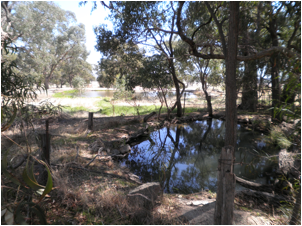 Although Ursula was very shy as a youngster she took an active interest in things happening around her. She had a good knowledge of the Holian families around the St James/Devenish district. From an early age Ursula strongly identified with the Irish and shared an interest with her brothers, especially Jack, in the Ned Kelly story which (she says) is part of the Holian story. She first heard the story of the white tablecloth when her Auntie Jean and cousin Florence were visiting Auntie Tottie (nee Downes). Ursula was around twelve. Tottie had married John Holian (1869 - 1920) and lived on the original property settled by the Holians in 1874. Auntie Jean told me the Kellys used to come there and go shooting with the boys and the police used to come there looking for them. Florence was able to add that if the police were there, great-grandma Bridget would hang a white tablecloth on the clothesline as a warning to the Kellys.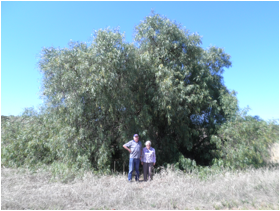 In 1945 the family purchased a larger farm at Tolmie, thirty km NE of Mansfield (close to the infamous Stringybark Creek). After attending school at Tolmie achieving the Merit certificate, Ursula, aged thirteen, became a boarder at the Mansfield Convent of Mercy where she attended school during the week, returning home at weekends when a lift was available. Tolmie is on the plateau above the Mansfield plain and there wasn't a bus service between the two centres. Social life in Tolmie was very lively: dances, tennis, church and playing cards. She went to the Convent of Mercy, Geelong in 1948 and 49 to study for the Leaving and Matriculation (Year 12) certificates.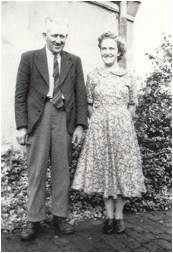 In 1950, Ursula joined the Sisters of Mercy at the Rosanna Convent and commenced training to become a Sister. In January 1953 Ursula made her vows for three years, taking her final vows in 1956. In early 1953 she moved to the Ascot Vale Convent and did teacher training at the Mercy Teachers' Training College Ascot Vale for one year. From 1954 she was at St CatherineÕs Orphanage Highton for four years both teaching and training at the same time. Based at the orphanage (and doing daily tasks there), she taught at St BernardÕs Primary School, Belmont travelling there by bus picking up pupils along the way. Ursula became a qualified teacher in 1956. From 1958 – 62 she was a teacher at MilduraÕs Sacred Heart Primary School where, in her fourth year, she had a class of 104 prep and first year students! After World War II many refugees and migrants from worn-torn Europe came to Australia and settled in regional centres. Many pupils couldnÕt speak English.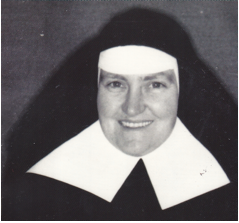 The Sisters of Mercy had been asked by Australian expatriates in New Guinea to establish a boarding school at Goroka in the Eastern Highlands of Papua New Guinea (1600 m above sea level). The Sisters thought the school was meant for the local indigenous people, but the ex-pats wanted it for their own children. In 1963, Ursula and two others went to Goroka to join four Sisters who had gone there in 1956 establishing two schools, one for locals and the other for children of Australian ex-pats. One Sister was a qualified nurse who provided medicine for the local people. After three years, Ursula contracted tuberculosis of the spine from cowsÕ milk (TB was common in the region). She returned to Australia and spent six months in the Mercy Hospital in Melbourne. When the infection had been diagnosed Ursula had an operation on her spine and one vertebra was reconstructed. She spent three months in a plaster cast. After a full recovery, Ursula returned to teaching and taught for many years in country Victoria. Mildura 3 years, 1966 – 68. Mansfield 4 years, 1969 – 72. Euroa 4 years, 1973 – 76 with the last year as Principal.
In 1977 Ursula was released from teaching and administrative duties and attended SydneyÕs St Columbans Seminary in North Turramurra to pursue a scholarly study of Missiology, a subject which investigates the mission of the Christian church, especially the nature of missionary work, and incorporates theology, anthropology, culture, history and geography. At Easter she met Father McGrath, an old priest (96 years old) who had originally come from the North East. Ursula learnt that this priest had been present at the Golden Wedding celebrations of her great-grandparents, Patrick and Bridget Holian in 1899. On coming home, she found a newspaper account of this celebration – and her interest in studying the family story was roused.
In 1978, Ursula became Mother Superior at the Bendigo Convent of Mercy where there were 25 sisters. Although holding a busy position, Ursula found time to work on the Gilbert family tree. She visited Eileen Russell in Brighton to enquire about the history of the Fallon family. Then by chance, a few days later, Eileen had a telephone call from Des Regan also seeking information about the Fallons. She told him someone else had been there a few days earlier asking the same questions. Meetings between Ursula, Des and Vin followed the chance phone call and the Holian family tree started to flourish. Eventually, on the suggestion of Ursula it was decided a Holian family reunion should be held. Ursula expected to return to PNG in 1981 so the date was set for 1980.
It was thought that descendants with the name spelt 'Holien' could be living in the general/original area west of Geelong. Ursula contacted the Colac Convent and asked a colleague to obtain a list of Holiens buried in the Colac cemetery. She obtained the list, but went one better and located descendants of John Joseph Holien, son of John and grandson of Michael. As a result they learnt of Doug Hille at Belmont who had compiled a Holien family tree back as far as John Holien.
Ursula was part of the organizing group for the first Holian Family Reunion which was held in August 1980 at Devenish and where over 300 attended from many parts in Australia. She also played a big part in the second reunion, 170 Years of the Holians in Australia, held in May 2011 at Devenish, St James and Yarrawonga.
From mid 1981–82 Ursula attended the Asian Religious Formation Institute in Manila to be trained in preparing novices in PNG to become Sisters of the Mercy Congregation and the taking of Vows. The Institute was in the centre of Manila, a bustling Asian city of 7 million, with a totally different way of life. For Ursula it was a wonderful cultural experience. People on the course were from a range of countries including Indonesia, Sri Lanka, PNG and the Philippines. In mid 1982 Ursula went to Wewak, PNG, as Directress of Novices training the first PNGian Sisters of Mercy. She served two three-year stints. On her return to Australia she was based at the Lilydale Convent for one year.
In 1987 Ursula was elected to the Council of the Melbourne Congregation of the Sisters of Mercy for six years. She was based at Rosanna. The Council oversaw, and was responsible for, the activities of the Sisters in most of Victoria.
In 1992, the Mercy International Association was formed to foster collaboration between Mercy Congregations. In 1994 the Association undertook its first major project by restoring the original house of the Sisters of Mercy built in 1824 by Catherine McAuley in Dublin. The Mercy International Centre is a heritage, hospitality and spiritual centre for the worldwide Mercy Community, a place of pilgrimage and renewal. As an international organization, the Centre sought staff from around the world. In 1993 Ursula attended a job interview in Dublin for the soon-to-be-opened Centre. She was in Ireland for one week and during that time a Sister took her to Tuam in County Galway from where it is believed the original Holian family came. She met a Michael Holian and after discussion about family history they agreed he and the Australian Holians were likely to have stemmed from common forebears.
Ursula was successful in her job application and returned to Ireland in May 1994 for 2 years. During that time a Centre volunteer from Moyglass in County Tipperary, took Ursula home and her brother showed them where Ned KellyÕs father had lived. UrsulaÕs photo of the place was used in an early edition of Ian JonesÕ book, Ned Kelly, A Short Life.
During her time at the International Centre Ursula pursued an interest in the history of Mercy Congregations in Australia. She used the archives to research these histories. In 1872 the Victorian Government had passed an Education Act which required that education in Victoria be free, compulsory and secular. However, the Catholic Church held a contrary view that schooling of Catholic children should include religious instruction. Nevertheless, the Church couldnÕt afford the wages of full-time teachers so individual parishes around Australia looked to the traditional source, the convents of Ireland, for teaching staff. Over the years, groups of Irish Sisters of Mercy had come to Australia and established convents, schools and hospitals. Ursula was interested in their history.
On returning to Australia in 1998, Ursula was appointed to the Deloraine Convent of Mercy in northern Tasmania where she remained for seven years. Apart from her usual duties Ursula was given the responsibility of travelling occasionally to other convents around Australia to make them aware of their history and traditions. Because of the high travel costs from Deloraine, Ursula moved to the Northcote Mercy Convent in 2004 where she continued her occasional visits to other convents interstate.
In 2005 Ursula went to Sydney to join the staff at Mercedes House in Lavender Bay which provided accommodation for Sisters and friends visiting Sydney. Lavender Bay is on the lower north shore of Sydney Harbour (3 km from the CBD) with views across the harbour and of the Sydney skyline.
Yarrawonga is on the Murray River, not far north of St James/Devenish, near UrsulaÕs birthplace. In 2006 Ursula accepted a posting to the convent at Yarrawonga and has become an active member of the nearby Sacred Heart Church and the community of Yarrawonga and surrounding districts.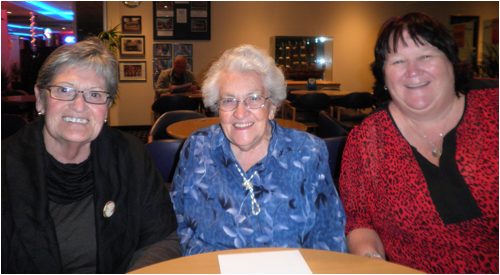 The grand ladies of Holian family history, L-R: Marie Day, Ursula Gilbert and Jan Parker.
In 2011 Ned KellyÕs remains were exhumed and positively identified at Pentridge Prison when the site was being re-developed for housing. NedÕs descendants were successful in having his remains returned to the family for formal burial. A Requiem Mass was held on January 13, 2013 at St PatrickÕs Church, Wangaratta which Ursula attended. The main body of the church was filled with family with an area on the side for non-family. Monsignor John White conducted a dignified service – and with a little humour. At the beginning he told the audience he had received many representations against honouring a criminal. He said it wasnÕt his role to cast judgement, but any Christian is entitled to Christian burial and Ned had been deprived. He then added IÕm really very pleased to be saying this Mass for Ned Kelly because IÕve been hearing about him all my life. Maybe because I was born in Jerilderie. Then, after ordination, my first appointment was to Euroa, so you could say that places of significance in my life are where Ned did his banking. After the coffin was reverently carried out by relatives, while NedÕs favourite song was being sung, there was a sense of reverence and quiet until, as the hearse began to move, someone called out Three cheers for Ned and everyone responded with GREAT GUSTO! Ursula said it was very moving occasion.
Ursula is actively involved in the Holian family history group which is embarking on organizing the third Holian reunion in 2016 in Geelong, over the long weekend March 12 – 14, and which are to be held every five years in the future.