A Proposal for a TV Programme about the Holian Family
76 COUSINS, THE STORY OF AN IRISH MIGRANT FAMILY IN EARLY VICTORIA
4. THE HOLIANS SPREAD OUT. How The Family Tree Was Pieced Together.
After the 76 offspring, of the twelve children who came to St James/Devenish, had grown up they naturally went their own ways. Some settled nearby and others moved elsewhere. The clan was spreading out. There were also the descendants of the Holians who hadn't moved from the Geelong area to North East Victoria. Moreover, when a Holian girl married she would adopt the name of her husband and a new branch might be established.
The 76 cousins began having their own children late in the nineteenth century and early in the twentieth century. The years went by and eventually as society changed and people lost contact with their roots some began to wonder about their family origins. By the mid-twentieth century, there were were a number of individuals from different Holian branches, who independently and some unknown to each other, were investigating their family history - Tom Walker, Leo and Des Regan, Vince Holian and Ursula Gilbert. Eventually they would all get together allowing the picture of the Holian diaspora to emerge.
The story of how the Holian family tree was unraveled is an interesting one in itself and provides insights into life in country Australia at the turn of the twentieth century. However, the place where the seeds of the family tree were sown was not in St James/Devenish, or around the original family home west of Geelong, but in faraway Toowoomba in Queensland.
Around 1907, Thomas Frederick Walker and his wife Bridget (nee Holian) had decided to move their family of eleven children from St James/Devenish and select land at Bell, just north of Dalby in Queensland. Bridget (1863-1950) was one of the twelve children who made the trek to St James with their parents. In 1882 Bridget married Thomas (1857-1935), a butcher from Steiglitz in the Brisbane Ranges, who had taken over John HolianŐs land across, and down, the road from her fatherŐs house (see 5. An Overview of Holian Land Selections). Their children were part of the 76 cousins. In 1907 Thomas and three sons, Fred, Tom and Jim, travelled to Bell and each selected an allocation of land and together built a house. The following year Bridget and the rest of the family joined them. This was a major relocation. The parents were not young with Tom aged 50 and Bridget 44. The reasons for moving are not known. Obviously the attraction of free land was important for a family with six sons. In 1878 there were changes in the Victorian Land Act in which the conditions of selection were greatly restricted, the immediate effect being a considerable falling off in the areas taken up. Most of the land around St James/Devenish had been taken up. Also an adverse climatic trend and the economic slump in the 1890s may have been factors.
How they heard of the opening up of the land at Bell is not known. However, it seems there was plenty of land available for selection and they could embark on the long journey with confidence. The terms of selection were annual rent over ten years of one-tenth the upset price plus improvements to the property at least equal to the upset price. If the terms of selection were met a deed of grant was issued and ownership of the land passed to the selector.
In 1907/8 transportation hadn't moved into the modern era of cars, trucks and airlines. In 1907, Tom and his three sons walked their bullock drays, cattle and horses up the long paddock along established stock routes through NSW, into Queensland and onto Bell. A distance of around 1150 km as the crow flies. It is believed it took them six months to do the trip which must have been physically and economically demanding! The following year Bridget and the kids caught the train from Benalla to Sydney where they then boarded a boat to Brisbane. Then they took trains through Toowoomba to Bell.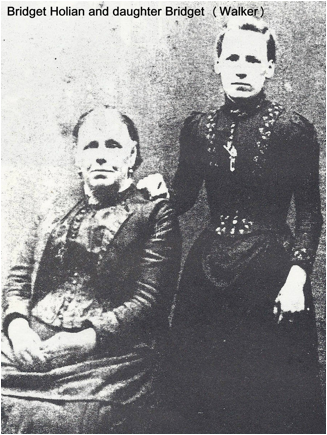 Bridget had a contract for carrying the mails by horse and buggy from St James Railway Station to Lake Rohan, Boweya North Creamery and other post offices. For this she earned around fifty pounds per year. The contract ran until 1908 and would have been a factor in when she could leave for Bell. She had been the Postie for six years.
The Walkers prospered in Bell, but remained a close family. Their first property was named St James. Another was called Devenish. As the years went by, members of the family moved into the large population centre of Toowoomba (80 km away). Bridget was a strong force in keeping the relatives in contact writing letters and sending birthday cards. From time to time she made trips to her son Fred at Coonamble in NSW and onto her family at St James. In 1962, the first of what became annual Easter Walker family reunions, mostly at Peter (died 1970) and Kit Walker's home in Toowoomba was held. It was at the Walker family reunion in 1966, that the Holian family tree began to fall in place. A number of characters, 'Post Office' Tom Walker, Leo Regan and Vin Holian, happened to be present - all visitors to Toowoomba. How the Holian family tree was unravelled follows. Thumbnail descriptions are given of the role played by the main players.
Tom Walker
Tom (1912 - 1994) grew up on the family farm Dariwell (named after the 1879 Melbourne Cup winner) at Bell. Tom joined the Australian postal service (PMG) in Bell as a telegram delivery boy. Later he was posted to Roma where he met his future wife Alma. At some stage he became a morse code operator. Tom was relocated to Longreach and married Alma in 1936. Around 1942 they moved to Brisbane where they lived for the rest of their lives. Tom had an intense interest in the family history. He had listened with great interest to his grandmother Bridget tell about her brothers and sisters living in Victoria and NSW. He would regularly arrange his annual holidays so he could go to Bell to help with the wheat harvest and visit his family. On the way he would stop off in Toowoomba and stay with his Uncle Peter (third youngest of the children who had moved from St James to Bell) and ask Peter about family photographs, the people in them and the events. Tom became knowledgeable about the history of the Holians and particularly of the Walkers in Queensland which was useful at this stage. He was affectionately referred to as Post Office Tom to distinguish him from the many other relatives who had been named after the original Thomas Frederick.
Vince Holian
Vince (1926 - 2014) grew up at Devenish. His father, also Vincent, was one of the 76 cousins. From an early age Vince collected information about the Holian family. Being a boy of his era he didn't attend secondary school. Vin moved to Melbourne when he was fifteen and was employed by the Victorian Railways for four years as a station assistant. Vince became an itinerant worker which took him to many parts of eastern Australia allowing him to meet his relatives. In 1947 Vin moved to Coonamble in northern NSW to work as a rouseabout in a shearing shed. Vin had relatives in town – the Walkers and the Murphies - and he stayed with these families on alternate weekends. Vin met grandmother Bridget Walker when she came from Bell to visit her son Fred. Later he travelled to Brisbane where he met cousin Tom Walker who told him the story about Tom's grandfather meeting Dan Kelly in Dalby around 1910.
Vince returned to Victoria and in early 1949 came down with polio whilst working east of Mildura clearing irrigation ditches. He was taken to Bendigo Hospital which was the start of almost three years of treatment, convalescence and rehabilitation which included a nine month course at a Melbourne business school learning about office work. Vince was fortunate because his was not a severe case of polio, although his left arm was weakened and was affected for the rest of his life. In early 1952, the 25-year-old started an office job with Gilbarco, where he worked for seventeen years.
Soon after this time Vince embarked on constructing the Holian family tree stemming from the family who immigrated to Australia, through to his fatherŐs generation. He created genealogical tables for the four children who came from Ireland and then for the branch who moved to St James/Devenish. The twelve who settled at St James/Devenish had 76 offspring, hence the name of this story. It was Vince who coined the phrase 76 Cousins. Vince played a major part in creating the Holian family tree. Ample useage was made of the State GovernmentŐs Births, Deaths and Marriages in Melbourne. Cemeteries were visited and dates and names of the deceased and relatives were copied down from gravestones. Cemetery records were obtained. These methods were also used by Des and Greg Regan. The existence of unknown distant relatives would be heard of by word-of-mouth and actively pursued.
Leo & Des Regan
Leo Regan's mother, Mary, was the oldest child of the Walker family who moved to Bell, but Mary didn't go with her family and remained in Victoria. She took a job as a nurse at the Beechworth mental hospital and in 1907 married the hospital's tailor, John Regan. Leo (1915 - 2002) was the third of their four children. When he grew up, Leo was employed at the hospital and worked as a psychiatric nurse, then storeman. In 1950 he moved to Melbourne and took up a position at the newly opened Larundel Psychiatric Hospital and settled in the suburb of Preston. In other words, Leo was a Walker, once removed. Leo kept in contact with his Walker relatives in Queensland. Leo had five children with sons Des and Greg developing an interest in their family history. Because of his Irish spirit, Leo was Secretary of the Hiberian Australasian Catholic Benefit Society while in Beechworth and after moving to Preston he took on the position in the local chapter when it became vacant.
Des Regan (1941 - 1994) was a key figure in determining the family tree and telling the story. He was the author of the book The Holians, A Galway Family in Australia. Des commenced work on his family tree in his teens. Vince Holian started visiting the Regan home in the early to mid 1960s. According to Greg Regan (born 1949), Vin helped Des and he break through brick walls. They were attempting to construct a family tree by going backwards from the people they knew about and kept running into dead ends. By contrast Vin had constructed a family tree starting at the beginning working up towards the present.
Des became a leading figure in the Genealogical Society of Victoria (GSV). He was instrumental in the establishment of the Irish Ancestry Group of the GSV which ran its first conference in 1988. Des personally led four genealogical group tours to Ireland. He was Editor of the GSV's Ancestor magazine from 1990 - 1994.
In a talk given by Leo Regan at the 1980 Holian Family Reunion (recorded in Des Regan's book) he tells how the family tree was finally pulled together. In 1966 he and Vince Holian attended the annual Walker reunion held at the home of Greg Walker (1895-1971) in Toowoomba. Vince brought his charts with him and they created great interest. This led to a pooling of the information held by Vince Holian, Tom Walker and Des. Then came a stumbling block common in tracing families over many generations - where were the members of the other families? Seemingly by chance the stumbling block was overcome. In some papers given to Des by Vince, Des found a telephone number and decided to call. Eileen Russell answered and Des said he was seeking information about the Fallon family. Eileen replied I had someone here the other day asking the same question, Sister Ursula Gilbert from Bendigo; she has been working on the Gilbert family tree.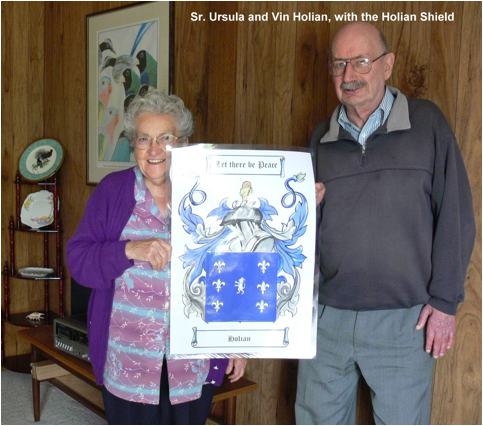 Ursula Gilbert
Ursula's grandmother, Mary Ann Holian was one of the twelve children who made the trek to St James. Three years after getting there, Mary Ann married James Gilbert. Ursala's father John was one of the 76 cousins. Ursula (born 1932) grew up on the family farm at Bungeet West between St James and Thoona. From an early age Ursula strongly identified with the Irish and shared an interest with her brothers, especially Jack, in the Ned Kelly story which (she says) is part of the Holian story. She had a good knowledge of the Holian families around the St James/Devenish district. When she was twelve her father bought a larger farm at Tolmie, 47 km south of Benalla (not far from Stringybark Creek).
After school at Tolmie, Ursula became a boarder at the Mercy Convent, Mansfield (30 km to the south west) to continue her education. She then went to the Mercy Convent at Geelong gaining the Matriculation Certificate (year 12) in 1949. The following year Ursula joined the Sisters of Mercy at the Rosanna Convent and commenced training to become a Sister. In 1953 Ursula made her vows. She moved to the Ascot Vale Convent and did teacher training. Becoming a qualified teacher in 1956 Ursula taught for many years in country Victoria. At her first posting at MilduraŐs Sacred Heart Primary School the classes were large. In her fourth year, she had a class of 104 prep and first year students! After World War II many refugees and migrants from worn-torn Europe came to Australia and settled in regional centres. Many pupils couldnŐt speak English.
In 1963, Ursula joined six Sisters at Goroka in PNG to establish a school where three years later she contracted tuberculosis of the spine. She spent six months in the Mercy Hospital in Melbourne (three in plaster) undergoing major surgery. After a full recovery Ursula returned to teaching.
Ursula's interest in studying her family story was roused after she met a 96 year old priest in Sydney in 1977. Father McGrath had originally come from the North East and Ursula learnt he had been present at the Golden Wedding celebrations of her great grandparents, Patrick and Bridget Holian in 1899. On coming home, she found a newspaper account of this celebration. In 1978, Ursula became Mother Superior at the Bendigo Convent of Mercy. Although holding a busy position, Ursula found time to work on the Gilbert family tree which led to her making the phone call which resulted in her being contacted by Des Regan.
Meetings between Ursula, Des Regan and Vince Holian followed the chance phone call and the Holian family tree started to flourish. Eventually, on the suggestion of Ursula it was decided a Holian family reunion should be held. This proved to be a rallying point for finding other branches of the family. As word got around about the proposed family reunion information about unknown relatives started to flow in. The Byrnes family came forward with details of their clan and Marie Day sent a detailed list of the Day family tree.
It was thought that descendants with the name spelt 'Holien' (after the original brother separated on the first day of the Holians in Australia) could be living in the original area west of Geelong. Sister Ursula contacted the Colac Convent and asked a colleague to obtain a list of Holiens buried in the Colac cemetery. She obtained the list, but went one better and located descendants of John Joseph Holien, son of John and grandson of Michael. As a result they learnt of Doug Hille at Belmont who had compiled a Holien family tree back as far as John Holien.
1980 HOLIAN FAMILY REUNION
As a result of these collaborative efforts, the Holian family tree in Australian was largely assembled in time for the 1980 Holian Family Reunion which was held on August 24 at Devenish. Over 300 attended from many parts of Australia. It was a very successful and joyful occasion.