A Proposal for a TV Programme about the Holian Family
76 COUSINS, THE STORY OF AN IRISH MIGRANT FAMILY IN EARLY VICTORIA
7. THE HOLIANS & THE KELLYS
Amongst Holian descendants there is a strong underlying belief the Holians knew and assisted the Kelly brothers Ned and Dan. There is evidence this could be the case. Further, the Holian connection introduces information about Dan Kelly surviving the Glenrowan siege and relocating to Queensland under the name of James Ryan. First a bit of background.
After the death of her husband, John 'Red' Kelly at Avenel at the end of 1866, Ellen took her sons Ned, Jim and Dan and their sisters Maggie, Kate and Grace to Greta in north eastern Victoria to be near her family. In 1867 she selected 88 acres of uncultivated farmland on the Eleven Mile Creek near Greta, which to this day is known as Kelly Country. This was seven years before the Holians arrived at St James/Devenish (the Glenrowan siege occurred June 28 1880. Ned aged 25).
Greta is close to the rural city of Benalla being about 28 km to the SNE. St James is about 33 km north of Benalla. St James is about 43 km north west of Greta which is not far compared to the distances travelled on horseback by the Kelly Gang. For example, the following are distances from the Kelly home at Greta to their major exploits:
* Stringybark Creek (Tolmie), about 47 km south,
* Jerilderie, about 135 km NNW,
* Euroa, about 70 km south west,
* Beechworth, about 40 km SNE.
The Kellys were Irish and widely perceived to be persecuted and hounded by the police. Moreover, the old class distinctions had been brought to Australia. In Britain, the English had the power and the Irish were the underdog and were treated accordingly; so too in Victoria. Moreover, a major underlying issue causing deep resentment was selection of land. Many Kelly sympathisers were farm workers and would-be small farmers who had applied to select land or extend their small holding. Names of applicants for land, due to appear before Land Boards, were circulated to the police. They would object to someone they had it in for, and relatives and sympathisers of the Kellys, causing their application to be rejected. Squatters added to the ill-feeling. There were large pastoral runs in the district. Many squatters were wealthy and influential in the community and could act to protect their interests, particularly during drought. Selectors were squeezed by squatters enclosing the common land and by impounding animals which strayed onto their land. Influential squatters could find reasons for the police giving particular selectors a hard time.
The arrival of a new Irish family in the area in 1874, with similarly aged children, would have been welcomed by the Kelly boys, particularly if the new family was sympathetic to their plight/cause. It should be noted that Ned and Dan were still young, being around 20 and 14 when the Holians came to St James/Devenish.
In 1878, bushrangers on the run didn't spend their nights in motels. They camped in the bush with their horses tethered nearby. Their camping equipment could have been as simple as a blanket and a rain cover. Food for themselves and their horses would often be in short supply.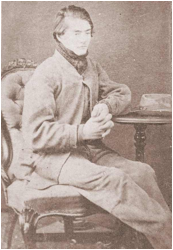 Kelly Gang member and Ned's younger brother, Dan Kelly
There are two hand-written accounts of Holian recollections which show the Holians befriended the Kelly brothers and gave them food and assistance when they were in the area. One account is by Peter Walker written in the late 1960s and the other is an interview with Theo Walker in 1985. Peter was Theo's elder brother. Further information about both accounts is given below. Before they were born, Peter and Theo's father, Thomas Walker, had purchased land across the road from that of Patrick Holian and then married Patrick's daughter Bridget in 1882.
Theo's interview conveys a strong supportive attitude towards the Kellys amongst the community of St James and Devenish. Theo's parents knew the Kelly family reasonably well and held them in high regard as did the vast majority of others in the area. This is according to what his parents told Theo.
The account of Peter Walker gives a greater insight into the existence of the fugitive bushrangers and how they were assisted by the Holians, and most likely by other sympathetic families. Peter says the outlawed Kellys used to often camp in Grandfather Holian's property at a waterhole. My father, Thomas Frederick Walker owned land adjoining Grandfather Holian's. Grandfather used to give the Kelly's food, even though a policeman would come to visit, looking for the Kellys. One night Father was riding over to Holians, and saw a fire near a waterhole, and went to see what it was. It was the Kellys, they asked him some questions, at first hostile, but later satisfied he was a friend. So Dan Kelly went with Father to Holians. Father went in and got food from Grandmother, there being a policeman at the house talking to Grandfather. Gave the food to Dan Kelly. Did this several times. 1878.
There is also the family memory of Bridget hanging out a white tablecloth on her clothesline whenever the police were around to alert the Kellys. Ursula Gilbert first heard the story of the white tablecloth when her auntie Jean and cousin Florence were visiting their Auntie Tottie. Ursula was around twelve. Tottie had married John Holian (1869 - 1920) and lived on the original property settled by the Holians. Auntie Jean told me the Kellys used to come there and go shooting with the boys and the police used to come there looking for them. Florence was able to add that if the police were there, great-grandma Bridget would hang a white tablecloth on the clothesline as a warning to the Kellys.
The accounts of the two brothers go further and record that early in the twentieth century Thomas Frederick encountered and recognised Dan Kelly and Steve Hart in southern Queensland. Dan and Steve were members of the Kelly Gang who officially had been found to have died in the firing of the Glenrowan Inn during the Siege in 1880. The two accounts are in reasonable agreement about the Holians knowing and supporting the Kellys, but they give conflicting descriptions about the encounters between their father and Dan Kelly and Steve Hart. Nevertheless, both accounts say Thomas encountered and identified Dan Kelly and Steve Hart in southern Queensland. The difference is about the where and when. However, it should be noted the two accounts are 16 years apart and are recollections of youthful family memories of two brothers aged 60 and 80 respectively at the time.
The most recent account is a record of interview with Theo Walker made on June 20, 1985 in Toowoomba by Michaela Easton (nee McCarthy) for the book 'Horsemen Bold' by Donald Hamilton Johnson. Theo was 80 years of age. He was the youngest of the Walker family of eleven children (age three) who relocated from St James to Bell, Queensland, in 1907/8 and selected allotments of land at Bell just north of Dalby. The story of the family's relocation to Bell is told in 4. THE HOLIANS SPREAD OUT.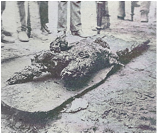 One of two charred bodies removed from the ashes of the Glenrowan Inn.
The idea that Dan Kelly and Steve Hart didn't die in the inferno of the Glenrowan Inn is not generally accepted. After the fire, two extremely charred bodies were identified as those of Dan and Steve and this has been the official view since. However, there is an opposing view that the bodies were never conclusively identified. The bodies were so charred, identifying which corpse was which, could only be done by body size. The bodies were handed over to the families for burial without an autopsy. Many believe a James Ryan, buried in Ipswich General Cemetery in 1948, was in fact Dan Kelly.
Family history has it that Thomas met Dan Kelly (going under the name of James Ryan) at the Dalby horse sales and identified him in a sea of faces at the livestock sale (around 1910). Thomas approached James Ryan, who denied he was Dan, but they spoke for a long time.
In the 1985 interview, Theo Walker recalled When he was a young lad living outside Dalby in a small hamlet called Bell, his father returned from a horse sale at Dalby. He remembers his father smiling and saying mysteriously 'Well .. well, you never know who you are going to run into do you?' Everyone in the family eagerly questioned him, but all he would say was 'It was some one from the old days at Glenrowan'. When he was pressed further he refused to say anything except 'I'll tell you all one day'. Over the years his father one way or another, did let the information slip. Theo and his mother and his brothers and sisters learnt that the man at the Dalby horse sale was actually Dan Kelly.
The other account was written by Peter Walker in the late 1960s. A hand written copy was made by R. M. Gilbert in 1969. It said 1909 When Father came to Queensland, he met Dan Kelly on Toowoomba Railway Platform. Recognised him. Dan denied it. Father said 'Let me see your ribs, if you are Dan Kelly you have a burn mark there'. Dan said 'If you know that, I am Dan, under the name of Jim Ryan'. Later on, around 1920, Father met Steve Hart at a Dalby horse sale. Spoke to him, he first denied being Hart, but later said he was. Said he was married and had a family a credit to any man. He did not want his sons to know who he was.
Further, in 1940 Bridget Walker visited a relative in Ipswich General Hospital and the relative pointed out an old patient who claimed to be Dan Kelly. Bridget questioned Dan at length about things only a regular visitor to the St James/Devenish area in her youth could know. She came away convinced the patient was Dan Kelly. In Peter's written record, it is said In 1940 Bill Heeney (in the Army) was ill in Ipswich Hospital. I took Mother and my sister May (Bill's mother) to see him. He told them 'see that old man in the corner, he says he is Dan Kelly'. They had a talk to him. Mother knew Dan in her youth. Said there was no doubt he was Dan Kelly. He knew places and people around the district and could tell them where they camped and who helped them. He knew too much about their doings not be a Kelly.
In 1933, a James Ryan walked into the Brisbane offices of the Sunday Truth believing after 50 years a statute of limitations would protect him from prosecution. His claim to be Dan Kelly was published by the newspaper running over four weekly editions. The following year he set himself up on Sideshow Alley at the Brisbane Exhibition answering questions about the Kellys for a small charge. James died in 1948 in a train accident and is buried in Ipswich General Cemetery where a memorial has been erected by Ipswich Council in the believed likelihood of James Ryan's true identity - Brisbane Times, February 2, 2013: www.qt.com.au/news/headline-is-not-set/173754
Steve Hart was the fourth and youngest member of the Kelly Gang. He and Dan Kelly were close friends. The Kelly Gang were all recognised as good horsemen, but Steve was considered to be an outstanding horseman, even a brilliant horseman.
The family memory doesn't include a definite name used by Steve Hart as an alias, but it recalls he settled at Wallumbilla (west of Dalby) and was visited from time to time by James Ryan. However, at the end of a hand written copy of Peter Walker's account written in Toowoomba in 1969, it is said I met a man Charlie Condon later. He told me he was a neighbour of Steve Hart under the name of Thompson. Said he told them in the later years he was Steve Hart, but people doubted it, but later two of his sons started a Garage in Roma as Hart Bros. Said he was a good neighbour, good stockman, wonderful rider. Jim Ryan (Dan Kelly) lived at Ipswich he used to come up to Toowoomba stop with Jack Pobar and go out west to see Steve Hart.
This was written almost fifty years ago. We now know that Thompson's first name was Harry because in May 2014 the Wallumbilla community recognised its collective memory of Harry Thompson being Steve Hart with the Council officially naming a new walkway after him Harry Thompson Walk. The opening ceremony is reported in: www.westernstarnews.com.au/news/history-unveiled-wallumbilla/2245653.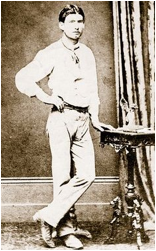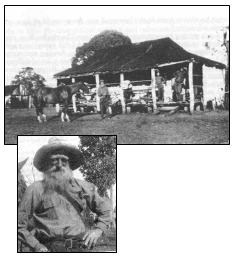 LEFT: A young Steve Hart. RIGHT: Harry Thompson and his house at Devil's Pulpit Station.
Harry lived on a property, Devil's Pulpit, north of Wallumbilla and died in 1943 aged 84. In the book, Across The Years. The Story Of My Life, author Norman Timms tells of his experiences on the cattle station Durham Downs in South Western Queensland. He met and worked with Harry Thompson and recounts that Thompson was an enigma. It was widely believed in the district the bearded bushman was actually Steve Hart, the youngest member of the Kelly Gang. He kept his rifles and revolvers fully loaded at all times, kept to him self and used the Kelly brand, NK2, for his cattle. Timms observed that his upper legs were covered in burn scars, as might have happened when the hotel at Glenrowan was set on fire. Steve Hart is recorded as having died in the fire, but his body was too charred for positive identification. A newspaper reporter was sent from Roma to interview Harry Thompson and asked if indeed he was the famed Steve Hart. Thompson told him What the hell would I want to be Steve Hart for? and hunted him off with his guns. The old man lived alone but eventually perished in a fire.
If it is true that Harry Thompson was really Steve Hart it is tragic that having escaped a terrifying blaze when a young man, fire was eventually the cause of ending his life.
The scenario offered by this non-official view is that Dan Kelly and Steve Hart, having escaped the infirno of the Glenrowan Inn, in the early twentieth century lived incognito under assumed names in outback southern Queensland well away from the long arm of the law of the State of Victoria. The Holian/Walker story is presented here because it could be of interest and because it shows the Holians knew and supported the Kelly Gang. It is the memory of older surviving Holians. Although the ageing memories of the two Walker brothers contradicted each other in detail, they are in agreement that their father had encountered and recognised Dan Kelly around 1910 in southern Queensland. This is well before James Ryan went public in 1933 announcing to the world he was Dan Kelly. Walker family memories about Steve Hart are supported by the collective memory of the Wallumbilla community which adds substance and fresh information to the family memory.