A Proposal for a TV Programme about the Holian Family
76 COUSINS, THE STORY OF AN IRISH MIGRANT FAMILY IN EARLY VICTORIA
6.2 G.J. Coles, Famous Son of St James
George James Coles, the founder of the G.J. Coles shopping empire, is a famous son of St James. He owned and operated his first store at St James before moving to Melbourne and establishing the G.J. Coles chain of stores. He retained a close connection with St James throughout his life and the town was a beneficiary of his and his wife's philanthropy. The following story is taken mainly from Nothing Over Half A Crown and St James, 1877 -1977.
G.J. Coles was from a family of shopkeepers. His family background had a large influence on his development. While obviously he had his own ideas about how to build a retail business, he grew up with a father who was an extremely active man and who had a number of successful shopping ventures in rural Victoria. Growing up in an extended family environment and working for his father must have given him a broad knowledge of retail shopping at that time.
The first Coles in Australia were two brothers, George and James. With the discovery of gold in Victoria, they decided to try their luck and sailed from England on the Royal Stuart. After three months they disembarked in Melbourne on October 29, 1853. Only George's story is known. He married soon after arriving, but the background of his wife Sarah Clipsham is unclear. Soon after, George and Sarah moved to the goldfields and set up home, and shop, in a tent at Daylesford. It is believed it was in the tent that Sarah had the first of their six children. The store proved successful supplying miners with goods and beverages. George and Sarah followed gold discoveries to St Arnaud and then to Stuart Mill (south of St Arnaud) where George had a butcher's shop. George died at Stuart Mill in 1886 aged 54 years and Sarah died at St Arnaud in 1892 aged 59.
GEORGE THE SECOND
The first son of George and Sarah was naturally named George (1858 - 1931). He grew up in the Wimmera with his parents and worked a number of jobs in the area. He worked for a goldmine at Stuart Mill and when his father was injured in a mining accident George took over his father's shop for a short time. As the railroad pushed into the expanding wheat areas of the Wimmera young George moved with it. He took a job with a wheat agent at Jung and soon bought the business. Next he moved to the small town of Diapur (18 km west of Nhill) where construction of the new railway from Melbourne and Adelaide was to meet. George opened a store, a blacksmith shop and a hotel.
On October 25 1882, while still at Jung, George married Elizabeth Scouler from Stawell, the daughter of a Scottish engineer. In eighteen years of marriage Elizabeth gave birth to ten children. George James was the second child born on March 28, 1885 at Jung. Five of her sons would play major roles in G.J. Coles & Co. Two died in WWI.
In the late 1880s the economic good times ended in Australia. Victoria was badly affected and conditions were made worse by the banks foreclosing on many farms and businesses. Nevertheless, after a few years at Diapur, George's businesses were doing well. The railway link had been completed and agriculture was expanding into wider areas. George felt sufficiently well off to move his family to the large city of Geelong with its more temperate climate. He leased the hotel at Diapur and left brother Jim in charge of the store. George bought a large house in Newtown, Geelong.
THE COLES FAMILY MOVES TO NORTH EAST VICTORIA
In Geelong, George joined a firm of auctioneers. His position took him around Victorian country towns, valuing and selling up businesses that had failed during the depression. On one trip he became interested in the North Eastern Stores, a pair of general stores, one at St James and the other at Lake Rowan, 7 km away. In 1892 George bought the North Eastern Stores which carried a wide range of goods and sold almost anything for farming and household needs. His brother Jim was made manager of the Lake Rowan store. The business was successful and in 1893 the family moved from Geelong to Lake Rowan and later they purchased land at St James and built a large ten room house. In 1895 the family moved in at St James. This was the most settled time the family had enjoyed and they didn't move again for six years.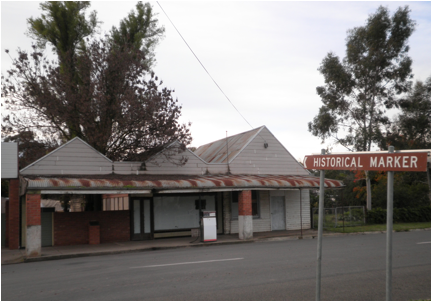 The St James Northern Eastern Store today.
It was an impressionable stage in young George's life. When they bought the stores in 1892 George was just seven years old. When they sold up and moved away in 1900 George had lived in the St James/Lake Rowan area for eight years. He had attended the local schools and made good boyhood friends. He attended the local church and helped out in the stores. For the last three years he attended boarding school at Beechworth College, but came home for the school holidays. During these holidays he worked in his father's store collecting produce from the railway station, delivering papers, and helping with the weighing and loading of wheat for the flour mills.
In 1900, when George was fifteen, tragedy struck the Coles family when his mother Elizabeth suddenly died at the end of her eleventh pregnancy with her condition complicated by pneumonia. She was 39 and the baby didn't survive. George Snr decided to move the family back to Geelong where he still owned the house and where life would be easier. He sold the North Eastern Stores. An Annie Troup from Ballarat was engaged to take care of the children and it wasn't long before George and she married.
LIFE IN GEELONG
Back in Geelong, George arranged for his son to work in Melbourne for a firm who could give him training and business experience in the shopkeeping trade. The firm supplied goods to country storekeepers. When the depressing effects of a long drought came to a head in 1902 young George was recalled from Melbourne and sent to help his uncles in the store at Diapur and another in Nhill. In 1903 George Snr bought a grocery and liquor business in the main street of Geelong and George returned home to assist his father. When George Snr acquired other business interests, George aged nineteen was left to run the shop largely on his own. He began reading publications on retail management and he borrowed the American business magazine "System" from the library. He began developing more modern ideas about retail business practices different to his father's.
George had concerns about his fatherÕs business methods. Large orders for merchandise from overseas required borrowing to cover payment until the goods arrived and could be sold. George did not like giving credit to customers. In the country this could be as long as until after the next harvest. He also differed with his father about charging different prices dependent on expected payment duration. When George took over the North Eastern Stores (see below) he implemented a policy of one price for all customers, and a 2.5% discount for payment of accounts by the twentieth of the month. George Snr would not refuse to give credit which was an important fallback for farmers in difficult years, but put the storekeeper at risk and the worry of a forced overdraft if the local crop had a bad season.
George Snr was Church of England. He took his family to the local All Saints Church and soon joined the church vestry. He also took an interest in local government and was elected to Newtown Council. Meanwhile young George settled down to life as a young man in bustling Geelong. He made good friends and joined a group called the Mutual Improvement Society and helped form a shooting team which had competitions with opposing teams. George became a crack shot. The Society also organised public speaking nights and debating, both amongst its members and with other clubs.
BACK IN THE NORTH EAST
In 1905 George Snr decided to move back to St James and sold the Geelong shop and again bought the North Eastern Stores. George felt more confident of his business abilities in a country environment. The family was welcomed back by the town and young George quickly settled into life at St James.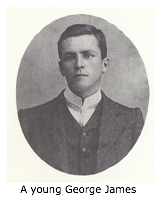 All together, GeorgeÕs home at St James was for around fifteen years, but like many young people, as they grow older the time spent at home became less regular. His second eight-year spell at St James was as a young man, aged 20 to 28, and it wasnÕt an easy time for the family.
George helped in the store at St James for the first few years. 1907 was a difficult year with little rain. The eldest of the children, Bessie, contracted pneumonia and died in her early twenties. George was very upset at the loss of his elder sister who after the death of their mother had taken care of the younger ones. Coupled with disagreements with his father about his conservative business methods he decided to leave for Melbourne to gain more experience. He took a job in a grocery store in Prahran and did a course in bookkeeping, but at his fatherÕs request went back to St James after nine months. Unfortunately this didnÕt last long and George left to work for his Uncle Fred at Diapur.
In 1909, without his oldest son, George Snr was stressed and worried about his health. He encouraged his son to buy him out on easy terms - £4500 to be repaid at 6% interest over 3.5 years - which George readily agreed to. George was 24. He immediately made changes to the business, having a sale and advertising by mail to their 200 customers. He announced his policy of one price for everyone. His new approach to running the store proved very successful and achieved good returns. By 1913 he had paid his father in full and accumulated substantial savings. His father bought an insolvent grocery business in Wilmot, Tasmania and in 1910 moved his family where they made an adequate living until they sold out in 1919. The family moved back to Melbourne in 1922 where they bought a house in Kew.
With his first store doing well, George aspired to do new things. He had read about the dime stores in the US where everything was 5, or 10, cents. A friend brought home toys from Mark & Spencers in the UK which cost a penny. George wanted to know how shops could do this and make a profit. George decided to sell the Northern Eastern Stores business and take a trip around the world to learn about new approaches in retailing.
GEORGE TRAVELS OVERSEAS
On August 9, 1913 George sailed from Sydney and landed in San Francisco three weeks later. He went through many shops and was well received and given a lot of help by store managers. The shops impressed him greatly and he was particularly interested in the large cafeterias. He also went to Los Angeles on the West Coast where he had introductions to large retailers including the large department store, The Broadway. He carefully recorded details of stock, turnover, store layouts, staff management, etc.
He travelled by train to the East Coast going first to Chicago where there were 10 cent stores and huge department stores with elaborate window displays. He spent time at the mighty mail-order houses of Butler Brothers and Sears Roebuck. In New York he toured the 5 and 10 cent stores and visited the stunning early US skyscraper, the Worthworth Building. He attended a big exhibition of the latest office and time-saving devices. He spent time at the New York branch of Butler Brothers and made out lists for his projected business and placed a small order to import stock.
On November 15, George sailed from New York for Liverpool and then travelled onto London. Woolworths in England had threepence and sixpence stores and there were also one penny bazaars of great interest. In London, George ordered some goods for delivery in Australia.
George arrived back in Melbourne on January 25, 1914 and with his brother Jim, opened their Nothing over 1 shilling store at 288 Smith Street, Collingwood on April 11, 1914. The store was immediately a great success, but WWI broke out four months after they opened. Brother Arthur, who worked in the store, enlisted immediately. He was wounded at Gallipoli and in France. Jim enlisted after the Gallipoli campaign in early 1916 and was killed in France later in the same year. The fourth of the brothers David, aged 18, enlisted from Tasmania and was killed in France in 1917. After Jim died George felt he had to go and pull my weight and he enlisted on June 18, 1917. He sold out to his Uncle Jim on the understanding he could buy back at the same price on his return. GeorgeÕs battalion, the 60th, was involved in the decisive Battle of Villers-Bretonneaaux where the German advance in France was finally stopped. This battle occurred over April 24 and 25, 1918 and George received a serious wound when sprinting between trenches to deliver a communication and was shot through the knee by a sniper. George was classified unfit for active service and was sent back to London being told he would be sent home when there was an available ship. He had time on his hands and used the opportunity to gather more information. He obtained an introduction to a store manager at Woolworths and also visited a number of English potteries to check out quality and prices. Four months after he was wounded George arrived home. He was discharged from the Army on March 1, 1919 in Melbourne. He was fortunate to find a surgeon who was able to fix his knee.
When heÕd settled down, George didnÕt buy back the Smith Street store from Uncle Jim, but started another down the road with brother Arthur in larger premises beside the Post Office. This store became known as Number 1 G.J. Coles store and opened on June 20, 1919 and is still there today. In 1921 the proprietary company G.J. Coles & Co was established. Other stores soon followed and what has become the largest chain store group in Australia was established. The rest is history.
In 2014 Coles celebrated its Centenary, which was of George and FredÕs Nothing over 1 shilling store. The company today is huge and, along with itÕs major competitor Woolworths, dominates Australian retailing. GeorgeÕs daughter Judith McLaughlin, and author of Nothing Over Half a Crown, said George was later to give full credit to the years that he had spent running these country stores as laying the foundation of the G.J. Coles and Company chain.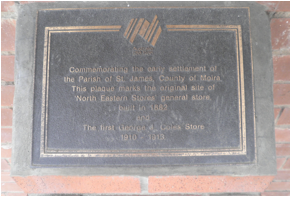 A plaque at St James marking the site of G.J. ColesÕ first store.
It is apparent George retained a fondness for St James throughout his life, but the extent of his contact with the town is unknown. In the late days of his life a highly successful Back-To St James weekend was held in 1977. The book St James 1871–1977 was produced to record the townÕs history. At the end of the section about the Coles story it is said The district people appreciate the interest and generosity shown by Sir George Coles and G.J. Coles and Company Limited in the ÒBack/ToÓ celebrations, and the production of the district history. It was also acknowledged that district people are not unmindful of the employment provided, particularly over the difficult depression years, for quite a number from this locality. Today there is a large open area behind the main street called St James Recreation Reserve where there is a plaque with an inscription saying the land was donated to the town by GJÕs wife. Need to go back and refresh my memory.
George died peacefully at home, aged 92, in December 1977 not long after the St James Back-To.