A Proposal for a TV Programme about the Holian Family
76 COUSINS, THE STORY OF AN IRISH MIGRANT FAMILY IN EARLY VICTORIA
5. AN OVERVIEW OF HOLIAN LAND SELECTIONS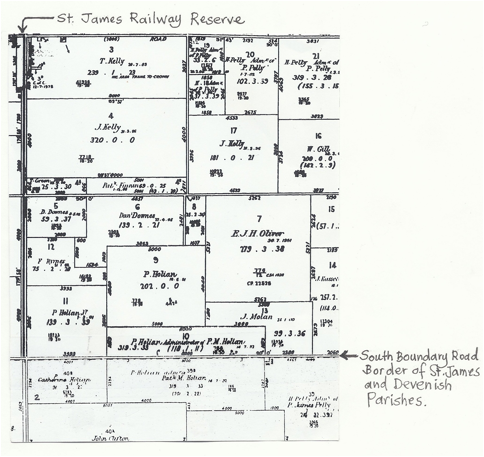 Composite 1883 survey map of the Parishes of St James and Devenish showing Holian selected land. Block 7 in St James is shown in the name of a later owner, E.J.H. Oliver, but Young Michael Holian was the titleholder from 1874 to 1914.
In his brief biography published in The Colony & Its People 1888 Patrick Holian says In 1874 he removed to St James with his father & selected 202 acres, his father also selecting 320 acres. The latter old gentleman died at the ripe old age of ninety years leaving his property to his son, who having acquired some other land, has now a total of 614 acres in the Parishes of Devenish & St James.
The Composite 1883 Survey Map of Devenish and St James Parishes shows selection boundaries, selectorsÕ names and block sizes. However, these maps were amended as ownership changed so some blocks show owners later than 1883, e.g. Block 7 is the one selected by Young Michael, but is shown in the name of an E.J.H. Oliver (when he became owner is uncertain, but it was after Michael died in 1914). The block acreage is the larger 3 part number shown in each block, e.g., block 7 was 279 acres 3 roods and 38 perches.
In the 1988 Back-To book, St James 1988, there are land selection records for the Parish of St James. These lists confirm the land selected shown in the map and give information about change in status of a selection and change of title.
Both men and women could select land at a minimum age of 18. First a licence application had to be made which required the land to be well delineated with trenches and large stones, etc. and to have it surveyed. A licence was issued for three years with rent of two shillings per acre per year. Licence conditions included fencing the block, cultivating 10% of the land and proof of residence for two years. When the conditions of the licence had been met a lease could be issued. An individualÕs selection was limited to 320 acres. Family members could act as individuals and select land on their own behalf. However, the system created the temptation/opportunity of a dummy, (illegally) selecting land for someone else and transferring title in the future. Old Michael was 88 years old when he selected his 320 acres, but itÕs unlikely he intended to work the selection at his age. He was a dummy for his son Patrick. He died in September 1875 less than a year after they had arrived and Patrick inherited his selection. The family decided to live on Old MichaelÕs selection and built a seven-roomed house.
At this early stage of Holian settlement, it appears there were other selections that were genuine. PatrickÕs oldest son, Young Michael (aged 24) selected a 279 acre block (7) in the same year as his father and grandfather on the eastern boundary of PatrickÕs land (9). In 1878, Patrick Jnr (aged 18) selected 139 acres (11) on PatrickÕs western boundary filling the space to the future railway line and down to the road. Both brothers owned their blocks for many years. Young Michael still owned the land when he died in 1914 willing it to his wife Mary. Patrick Jnr is listed as receiving a Crown Grant of his land in 1901. Moreover, Patrick Jnr had also obtained the Licence for 179 acres (16c) in the north west of St James Parish in 1882 and is listed as gaining a Crown Grant of this land in 1901.
Once settled, the family selected more land. In 1877, PatrickÕs brother John selected 99 acres of wattle scrub between PatrickÕs selection and Young MichaelÕs selection. Around 1880 PatrickÕs daughter Catherine selected the block (40b) in Devenish Parish between Old MichaelÕs selection and the future railway line. We now have a copy of a Government Gazette which says she was issued a Lease in 1883. She was a dummy for her father and this land had passed into his name by 1888.
The composite map shows Old MichaelÕs selection spanned the border of the two parishes with the much larger part in Devenish. CatherineÕs selection was in Devenish. However, all the other Holian selections were in St James Parish on the north side of the road. Today, South Boundary Road is still unmade and is the border between Moira Shire and Benalla Rural City.
It is instructive to add up the acreage of Holian land holdings around 1885. The 614 acres Patrick said were his, in the reference at the beginning of this Overview, were Old MichaelÕs selection (319 acres), CatherineÕs selection (91 acres) and his own selection (202 acres). Not taking into account JohnÕs 99 acres (see below), if you add Young MichaelÕs selection (279 acres) and Patrick JnrÕs two blocks (139 & 179 acres), the total acreage in the Holian name amounted to 1,211 acres – a considerable area when farms at the time were often less than 300 acres. The family was a tight-knit unit and would have helped each of out and could have shared the new agricultural machinery coming on the market.
Patrick died in 1902 (aged 80). His will shows he left his property equally to two sons, John James Holian (1867 - 1920) and George Joseph Holian (1874 - 1945), a bachelor (had these two sons worked the land for their father?). George Joseph is shown in the land selection records in St James 1988 as the owner in 1921 of both PatrickÕs block (9) and Old MichaelÕs block on the St James side of the road (10). We donÕt have the equivalent records for Devenish Parish so we canÕt say at this stage what land became John JamesÕ. However, it is likely that John and George came to an understanding, with George getting the land to the north of the road in St James and John the land to the south in Devenish.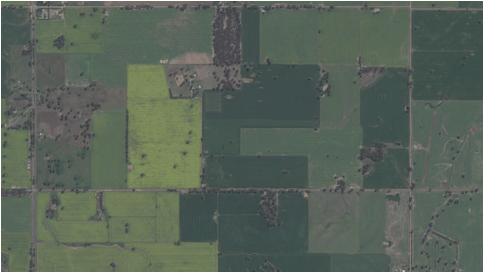 A recent satellite photo (from Apple Maps) of the countryside of the Holian land holdings. To see the original selection boundaries it should be compared with the survey map above.
THOMAS WALKER MARRIES BRIDGET HOLIAN
In 1882 a Thomas Walker married Bridget Holian. Thomas came from Steiglitz which is in the broad general vicinity of where the Holians lived before they moved to the North East. There is a romantic belief amongst the Holians that Bridget and Thomas knew each other before the family moved and Thomas followed her to St James/Devenish. Thomas certainly appears to have received special consideration.
The St James 1988 land records tell an interesting story about Block 13, the inverted ÓLÓ shaped block with frontage on South Boundary Road, which was the block taken over by Thomas Walker in 1879.
BLOCK 13, 99.3 acres
1877 John Holian Lic.
1879 Thomas Walker Lic.
1885 Thomas Walker Lease
1886 Green & Crockett Trans.
1896 John Molan Trans.
1900 John Molan C.G.
What the listing tells us is that John Holian had selected Block 13 and obtained a Licence in 1877 to develop the land. Then two years later Thomas Walker had the Licence on the block. Licences couldn't be transferred between parties, so John had to relinquish his licence, either because he couldn't afford to work the block or so that Thomas could take it up because he was marrying Bridget. After 2 or 3 years Thomas' licence was converted to a lease (which could be sold to another). In 1886 we see the block has been transferred to Green & Crockett whom, we understand, was a land holding company. The reason for the transfer is unknown, but it suggests Thomas couldn't afford to work the block. Green & Crockett had sold the lease by 1896 (paying the rent in the meantime) to a John Molan who received title to the land in 1900 as a Crown Grant when the lease had been paid in full.
Another explanation of why Thomas relinquished the lease on Block 13 is that there is a block (30a - 220 acres) in the north of St James Parish (outside the composite map) with a licence issued in 1881 in the name of a Thomas Walker. We understand from other information this was BridgetÕs Thomas. Possibly Thomas wanted to concentrate on this larger block (which wasnÕt far from Patrick JnrÕs second block). Nevertheless, the lease on this second block had been transferred to another by 1891.
WHERE DID THEY LIVE?
An intriguing mystery of these early Holians is where did they live. It seems the popular thinking is that Des HolianÕs house is the original home with a few rooms added. However, this contradicts Des ReganÕs statement in his definitive book that the original family, after making their selections decided to build their first house on Old MichaelsÕs selection. Today Des HolianÕs farm, is towards the railway line, on CatherineÕs original selection. In the satellite photo some of the original block boundaries are obscured by later farming. By comparing the map and the photo it can be seen Old MichaelÕs western boundary was in line with the straight line of dark trees, north of the road, with a dam at the southern end of the trees (was it Patrick, Patrick Jnr, or George who planted these trees?). On the southern side of the road this was CatherineÕs eastern boundary. About one third of the way between it and the railway line there is a tree-lined driveway which finishes at a house and farm buildings. This is Des HolianÕs place. As such, it can be seen to be well outside of Old MichaelÕs selection.
If you walk Old MichaelÕs paddocks today, virtually all signs of any early dwellings have been ploughed into the ground, but two separate relics survive. One is a huge old peppercorn tree complex with old building materials underneath and the other is an early brick-lined well (1.3 m inside diameter and water depth at about 8 m) with a buried pile of old farm machinery (an early harvester?) nearby. A reliable well would have been important in the early days and it is highly likely this is a Holian well. Would a house have been built close to this source of water? Is this the location of the original Holian home?
Peppercorn trees were popular around homes and schools in the NE. They are a good indicator of early european settlement. This huge peppercorn must be one of the biggest and oldest in the North East. It is on the boundary of Old MichaelÕs and PatrickÕs selection and my initial guess, itÕs on PatrickÕs side. The peppercorn tree and the well are on opposite sides of the road, but are not a great distance apart. They are in positions which would have allowed visits with a brisk walk between the two. They are positioned, almost as close to each other, as the property boundaries would allow.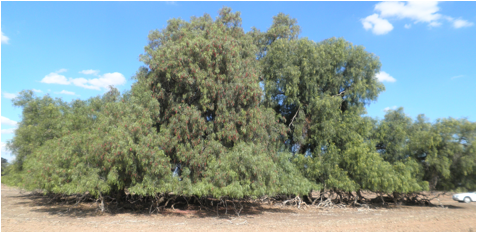 There are at least three trunks making up this peppercorn (note car on right) with huge horizontal boughs over 30 cm in diameter.
WHAT HAPPENED TO THE HOLIAN LAND?
This is an ongoing investigation, but established facts are:
i) Young Michael (PatrickÕs eldest child and the authors great grandfather) selected his land in 1874 and willed it to his wife Mary on his death in 1914 with 180 acres under crop. Forty years of working the land! As told in 9.3.1 Extended Family of Mary Holian (1858 - 1942) Mary had purchased a new house in Northcote and moved there with her three youngsters in 1918. Therefore it is likely she had sold the farm before relocating. It was listed in the name of a new owner in 1921.
ii) Patrick Jnr selected his two blocks in 1878 and is likely to have sold them around 1910 give, or take, a year or two. 32 years! Patrick JnrÕs story is not so clear after he had sold his land, but there is a WW1 AIF record of Patrick JnrÕs son, John Mildred, having enlisted in the Army in December 1915 with his address as Cora Lynn, Gippsland. His next of kin was his father with the same address. Patrick probably settled at Cora Lynn before 1913, because in that year his wife Margaret died and she is buried in Bunyip Cemetery (a shortish distance north west of Cora Lynn). He was around 53 when Margaret died. According to the Holian family tree Patrick married again and died in 1938 in Warragul, but is also buried in Bunyip Cemetery.
iii) As explained above, when Patrick died in 1902, he left his land equally to two sons, John James and George Joseph. When they died in 1920 and 1948, respectively, both left their land to JohnÕs eldest son John Arthur (George was a bachelor) so the land reverted to single ownership again. What happened to the land after this is unclear. Part of the land became Des HolianÕs farm, but we donÕt know what happened along the way.
These points, and no doubt others, need to be further investigated.
May 2015